Hey, when you spend four months previewing something, trot out eleventy-billion mock drafts and work everybody into a froth trying to figure out how 19- and 20-year-olds project as pro athletes, the least you can hope is that the draft is interesting.
So far, so good.
Thursday's first round of the NFL draft was loaded with twists and surprises, from the beginning to the end. Lots to unpack here, and it's impossible to hit it all right away in the aftermath. But we can try.
Here's a quick effort to decode some of what we learned in the first round of this year's NFL draft:
The quarterbacks all went to places that make sense for them
Think about it. Baker Mayfield is a lifelong underdog, two-time walk-on with thick skin who doesn't care what you think about him. A No. 1 overall pick with a chip on his shoulder. Cleveland all the way. Sam Darnold was a superstar in a big market who'll be asked to do that again with the New York Jets. Josh Allen has the size and the arm to muscle his way through the elements in Buffalo (a small market where Thursday's Twitter controversy may not get as much exposure as in a larger one). Josh Rosen will play in ideal conditions in Arizona, with a superstar running back who can ease the pressure on him early. And Lamar Jackson can sit for a year or two behind veteran Joe Flacco in Baltimore (more on that in a second).
None of these guys has to play right away, but all five are in places where they can thrive eventually.
---
Some veteran QBs are on notice — even in places where they just arrived
The obvious one is Flacco, who technically has four years left on his contract but has no more guaranteed money coming and can easily be cut after 2018. It's hard to know how much time Jackson will need to develop as an NFL quarterback, but his unique natural ability immediately makes him a better backup QB than the Ravens have had since Tyrod Taylor left, and he sets up as the potential successor to Flacco.
In Arizona, there'll be pressure to play Rosen early, especially if Sam Bradford continues to have injury issues. In New York, Josh McCown did enough last year to deserve starting the entire 2018 season if he's healthy, but Darnold looms as the 2019 starter. Taylor always looked like a placeholder in Cleveland, but obviously there'll be pressure on the Browns' coaching staff to play Mayfield right away — especially if they're losing games. And all that stands in Allen's way in Buffalo is the unproven tandem of AJ McCarron and Nathan Peterman. Allen may need time to develop, but again, if the Bills are losing, McCarron will be on the hot seat almost before he gets a chance to show what he can do.
---
The wide receiver position had a rough 12 months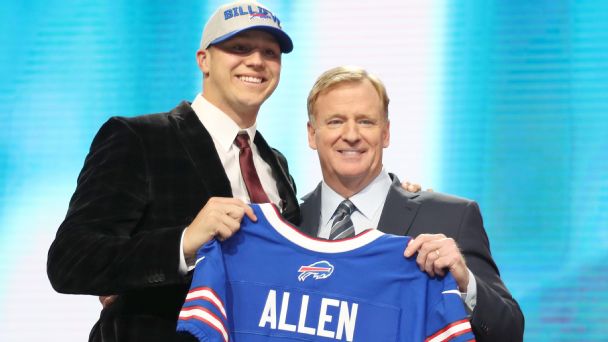 Rounds 2-3: Friday, 7 p.m., ESPN/ESPN App
Rounds 4-7: Sat., noon, ESPN/ABC/ESPN App
More draft coverage » | Rounds »
•

Kiper: Kiper's Round 1 winners, questions »
•

Kiper: Best available prospects on Day 2 »
• Nation: Pros, cons for every pick »
• Browns take Baker Mayfield with top pick »
• Jets select Sam Darnold at No. 3 »
• Bills trade up to 10 for Josh Allen »
• Cardinals move up to take Josh Rosen »
• Clay: Round 1 fantasy reaction »
Last year, three wideouts went in the top nine picks. The problem is, all three of them — the Chargers' Mike Williams, the Titans' Corey Davis and the Bengals' John Ross — had injury issues and rough rookie years.
Fast-forward to Thursday night, and the first wide receiver taken was pick No. 24 — Maryland's D.J. Moore to the Carolina Panthers. Before that happened, the Steelers traded fourth-year receiver Martavis Bryant to the Raiders for a third-round pick and the Patriots took Georgia guard Isaiah Wynn with the pick (No. 23 overall) they got from the Rams in exchange for wide receiver Brandin Cooks.
It's clear teams this year were looking for wide receiver solutions in places other than the draft, and the only wide receiver other than Moore who went in this year's first round was Alabama's Calvin Ridley, who fell into the laps of the stunned Atlanta Falcons at No. 26. Overall, 11 offensive skill position players went in the first round, and five were the quarterbacks. The others were the aforementioned wide receivers, one tight end (Hayden Hurst, Ravens, No. 25) and three running backs (Saquon Barkley, Giants, No. 2; Rashaad Penny, Seahawks, No. 27; Sony Michel, Patriots, No. 31).
---
Gruden gonna Gruden
A lot of mock drafts had the Oakland Raiders taking a defensive player, but I heard my friend Mark Dominik say on the radio Thursday that the offensive-minded Gruden wouldn't be able to help himself. Sure enough, the Raiders traded back and took a project offensive tackle in UCLA's Kolton Miller, and then traded the pick they got in that deal (No. 79 overall, from Arizona) to the Steelers for Bryant. Have to think the Raiders go defense Friday night, but I guess we can't be sure.
---
A surprising number of teams got their top-choice player
The Browns, obviously, since they got to pick first. But in addition to Mayfield, Cleveland took the first defensive player in the draft. And to many people's surprise, it was Ohio State cornerback Denzel Ward instead of NC State defensive end Bradley Chubb. The Giants could have traded down from No. 2, but clearly Barkley was the player of their dreams. The Jets traded up from No. 6 to No. 3 because they liked three quarterbacks but still got the top one on their board in Darnold, according to a source close to the situation. The Broncos were set to deal the No. 5 pick to Buffalo (who was coming up for Allen, their top choice) until Chubb fell to them and they decided they couldn't pass up the chance to pair Chubb and Von Miller on the edges. The Colts moved down from No. 3 to No. 6 figuring they'd get either Chubb, Barkley or Notre Dame guard Quenton Nelson, and sure enough they came out with Nelson, who can help them keep quarterback Andrew Luck upright. Heck, the Dolphins got their dream pick at No. 11 in Alabama defensive back Minkah Fitzpatrick. The Saints obviously were deeply in love with UT-San Antonio defensive end Marcus Davenport, for whom they dealt a 2019 first-round pick. And the Chargers could never have imagined Florida State defensive back Derwin James falling to them at No. 17.
There were plenty of trades, but the reason there weren't more in the top half of the draft was because the board was falling the way many of these teams were hoping it would.
---
Tom Brady's plan to play forever survived the night
Lots of chatter about the Patriots maybe taking Lamar Jackson if he fell to them. He did. Twice. And they didn't take him. The Patriots may still get a quarterback in this draft, and it could be someone like Mason Rudolph or Luke Falk on Friday night. But neither would present any kind of immediate threat to the soon-to-be 41-year-old Brady. The search for the next Jimmy Garoppolo remains in progress.
---
The running back renaissance continues
It's the first time three running backs have been taken in the first round since 2012, and the third straight year a back went in the top four. The Giants took their guy at No. 2 overall, one-upping the 2016 Cowboys (No. 4 overall) and the 2017 Jaguars (also No. 4 overall). Penn State's Saquon Barkley is, according to new Giants GM Dave Gettleman, capable of carrying the offense, curing dread diseases and balancing the federal budget. All of this apparently justifies passing on Darnold, Allen and Rosen as the potential successor to 37-year-old quarterback Eli Manning. We shall see how that pans out for a Giants team that just set a franchise record for losses in a single season with 13. Giants fans would surely feel better about Gettleman's "I don't care about value" plan if he spends Friday drafting an offensive lineman or two who can open holes for Barkley, who'll immediately become the fourth-highest paid running back in the league once he signs his rookie contract. (Side note: Seattle made a head-scratching pick with San Diego State's Rashaad Penny at No. 27. The Seahawks' crippling inability to replace Marshawn Lynch is likely in the Gettleman database of reasons it makes sense to spend the No. 2 pick on a running back when your QB is 37 and you haven't score 30 points in a game since the 2015 season.)
---
There's lots of potential movement at the top of Round 2
The Browns have the first and third picks of Friday night, thanks to last year's Deshaun Watson trade with the Texans. The Colts have the fourth and fifth picks of Friday night, thanks to last month's trade with the Jets. Plenty of good players are still there for the Browns, who could use someone like Boston College edge rusher Harold Landry or Stanford safety Justin Reid, among others. Plenty of strong options there for the Colts, who could use Landry or any of the top remaining offensive linemen — Iowa's James Daniels, UTEP's Will Hernandez, Texas' Connor Williams. But having multiple picks enables Cleveland and Indianapolis to listen to offers from teams looking to move up to take the guy they think should have been a first-rounder but wasn't. The draft resumes at 7 p.m. ET on ESPN.