EAGAN, Minn. — In each of the last three years, Minnesota Vikings coach Mike Zimmer has started the offseason program with a new offensive coordinator.
The turnover and change in philosophy from one year to the next has been constant when it comes to coaches designing the offense. The same goes for the number of quarterbacks tasked with carrying out plays. This fall, Kirk Cousins will become the fourth starting quarterback in Zimmer's five-year tenure.
Installing a new offense comes with a set of hurdles, regardless of how much or little holdover from the previous scheme. Throw in a new quarterback and the obstacles can become more challenging.
Zimmer, however, said the transition has been made easier because of the communication he has had with new offensive coordinator John DeFilippo.
"We can have really open conversations," Zimmer said. "He listens to the things I say would hurt defenses. It's been really good. I think he's done a great job with the offense. When I sit in the meetings with them, he does a great job of communicating exactly what he wants. He's detailed with the work, the plays and alignments, all the different things that they're doing. We talked about adding more screens, and we ran quite a few more today, so that's been good. It's really been seamless."
"Seamless" is not a word Zimmer uses to describe the state of anything this early in the offseason. It even caught wide receiver Adam Thielen off guard.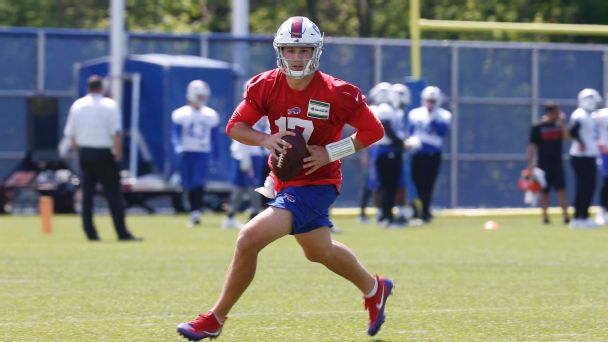 • Allen takes first snaps with Bills' first team
• Johnson, Cardinals at contract impasse
• Ready for a freer Ha Ha in Green Bay?
• Zack Marting poised for bigger role
• Rams like Cook-Woods receiver combo
• Vikings' offensive transition 'seamless'
• Panthers angered at D-line's snub
"That is impressive, I can't believe he said that," Thielen said. "It's been really good. When you have a locker room the way we do, guys that just want to work, and they want to study, and they love coming out to practice, you can get a lot accomplished in a few weeks. We're off to a great start, but we've got a long way to go."
Thielen said much of the verbiage and other base concepts remain the same from former offensive coordinator Pat Shurmur's scheme to DeFilippo's.
"Every offensive coordinator, they have their wrinkles, the things that they like to do," he said. "[DeFilippo's personality] is a lot different, but that's what keeps it fresh. That's what keeps it fun. We're excited to keep learning from him."
The overarching constant? DeFilippo's approach to putting his personnel in the best positions appears to mirror the democratic approach Shurmur had with his playmakers, thus helping aid in that smooth transition while it's still early.
"No. 1, [DeFilippo's] able to adjust," Thielen said. "He loves the game of football and he loves to see guys succeed; so he's not a stubborn guy that's going to only do it his way. He's going to listen to other guys' advice and try to make it the best offense possible. The other thing is we have the players that are willing to adapt as well. Guys that are willing to study, which, sometimes this time of year, it's not easy to open the playbook when you're at home. But we have the guys that are willing to do that."