Buffon's quip to end career in Zidane-esque rage comes back to bite him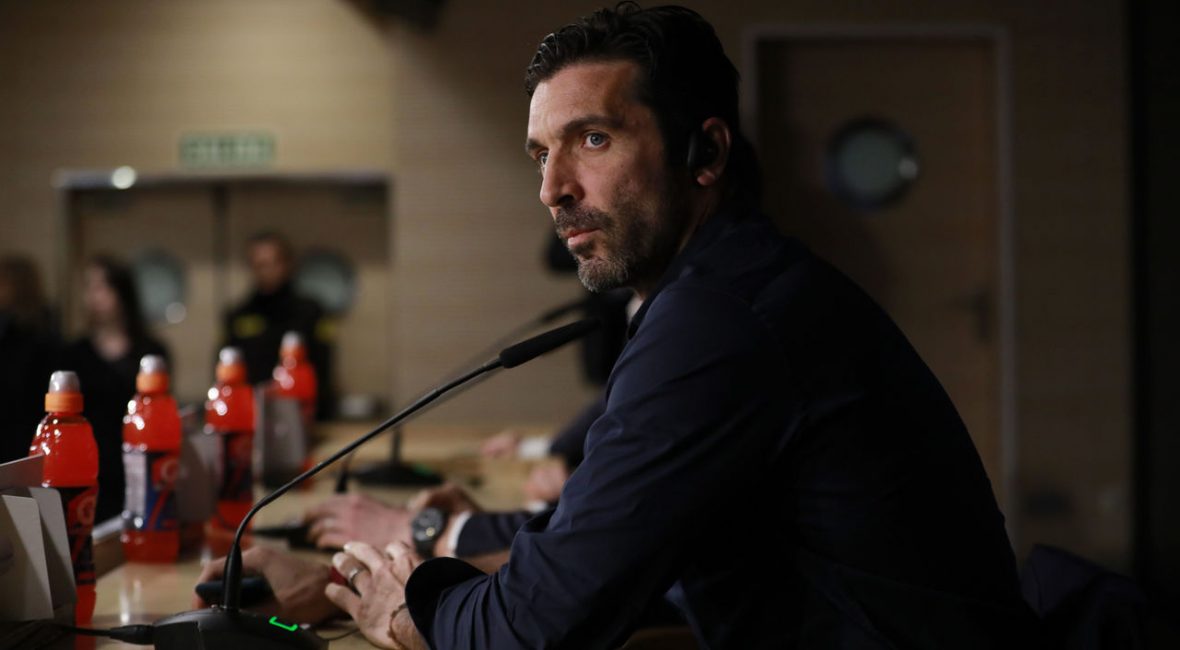 Gianluigi Buffon did not imagine things ending quite like this. Though it must be said, he wasn't that far off. "When they ask me how my final game will go, I tell them I don't think about that stuff," he reflected before Italy's game against Albania last March. "Maybe I'll close out like (Zinedine) Zidane, giving someone a headbutt …"
One year later, Buffon appeared to bring down the curtain on his final Champions League campaign with a red card in the 93rd minute at the Santiago Bernabeu. He might not have assaulted an opponent, as Zidane infamously did Marco Materazzi in the 2006 World Cup final, but the Juventus goalkeeper was just as guilty of losing himself in a moment of hot-headedness.
He had been magnificent, just like all of his team-mates, as Juventus came within touching distance of what might have been the greatest European Cup comeback ever. Trailing 3-0 from the first leg at home in Turin, the Bianconeri pulled all the way back to 3-3 and looked set to take the tie into extra-time before Mehdi Benatia bundled over Lucas Vazquez inside the box with seconds remaining.
Related: Ronaldo's injury-time penalty cancels out Juventus' inspired comeback
The referee, Michael Oliver, was correct to award the penalty. Yet you could hardly blame Juventus players for allowing emotions to boil over in a moment of desperation at the end of a game in which they had given more than anyone thought possible. Buffon led the charge over towards the official, screaming blue murder and paying the price as he was shown a red card. All this, as Zidane himself watched from the opposition dugout.
Did Buffon even notice, under the red fog that engulfed him, how the home crowd rose to offer him a standing ovation? Madrid's supporters were not applauding the dismissal, but simply a magnificent career. Just as the Juventus fans who acknowledged the majesty of Cristiano Ronaldo one week earlier, this fanbase has known enough success to recognise greatness when they see it.
Before kick-off, Buffon himself had suggested this would not be the worst place to bow out. "As a kid, I would have signed up to end my career with a Champions League match against Real Madrid at the Bernabeu," he insisted.
Back then, though, the context felt different. Juventus was coming to Madrid to salvage some pride after the humiliation of the first leg, but not even the club seemed to believe the tie was still salvageable.
The media availabilities for this game were conducted before Roma overturned a three-goal deficit of its own to eliminate Barcelona on Tuesday. But even that context did not make the upset here plausible. Roma had played its second leg at home, in front of 60,000 roaring fans at the Stadio Olimpico. Juventus would need something unprecedented to prevail in Madrid.
And yet, Juventus came so close. Could any player be more due a triumph over Madrid than Mario Mandzukic, who scored a spectacular overhead kick as Juventus was beaten 4-1 by the same opponent in last season's Champions League final, and followed that up with a brace here? His first goal arrived after just 76 seconds, the fastest ever scored against Madrid at its own stadium in this competition.
He added a second before half-time, and at that point, you could feel the panic seeping in among the home team's defenders. Both goals had been back-post headers. Madrid, missing Sergio Ramos through suspension, seemed to have no answer for such size and power in close.
Nor were these strikes the sum of Mandzukic's contribution. After Blaise Matuidi grabbed the third goal, jabbing home from close range after Keylor Navas mishandled a cross, the Croatian forward mucked in at the other end. As late as the 87th minute, there he was: holding his ground against Ronaldo inside the Juventus penalty area and shepherding the ball to safety.
His was the most impressive individual performance on a night when almost every Juventus player rose to the occasion. Douglas Costa was a constant menace down the right flank, both Sami Khedira and Stephan Lichtsteiner served up beautiful assists, and Benatia, before that final challenge for the penalty, mopped up everything at the back.
How could this be the same team that lost so emphatically a week ago? The manager must take his share of the blame. Both Mandzukic and Matuidi – the scorers of Juve's three goals here – were left out of Massimiliano Allegri's starting XI in Turin.
At least Juventus was able to wash away the bad taste of that first-leg humiliation. This defeat will hurt, for how close it came to something magnificent, yet taking a broader view, we can say there is no shame in losing by a single goal over two legs to Madrid. After two finals in the past three years, furthermore, the Bianconeri will expect to be back in the latter stages of the competition again next season.
Most likely, though, they will be there without Buffon. Although he has not yet formally confirmed his retirement date, he had said on several occasions that he would only return next season if Juventus won the Champions League – since that would allow him to compete for the first time in the Club World Cup and European Super Cup.
That opportunity is no longer on the table. "The referee has a trashcan in place of a heart," said Buffon in a postgame interview. His pain was raw and relatable. He had been joking, of course, about the headbutt. Not even Madrid would have wished him an ending like this.
(Photos courtesy: Getty Images)