Wolfgang Rattay / Reuters
The fall of the "Yellow Wall."
Borussia Dortmund has reluctantly accepted its punishment for egregious fan behaviour in Feb. 4's 1-0 defeat of RB Leipzig by vacating the Sudtribune for next Saturday's visit from VfL Wolfsburg.
Five days after the hosting of Leipzig, there were found to be 32 cases under investigation by Dortmund police after a minority of Die Borussen support attacked visiting fans – 10 of whom were injured. The local law enforcement noted that people were spat at and attacked with stones and glass bottles, regardless of whether they were children, women, or families.
The bile on the banners of some of the home contingent also shocked the Bundesliga and the wider German football community. Repulsed by Leipzig's funding from energy drink giant Red Bull – hence the RB in the club's name – banners were unfurled branding it "football's enemy," claiming that "football belongs to us," and ordering its sporting director, Ralf Rangnick, who has suffered from depression, to "hang yourself," noted The Telegraph's Evan Bartlett.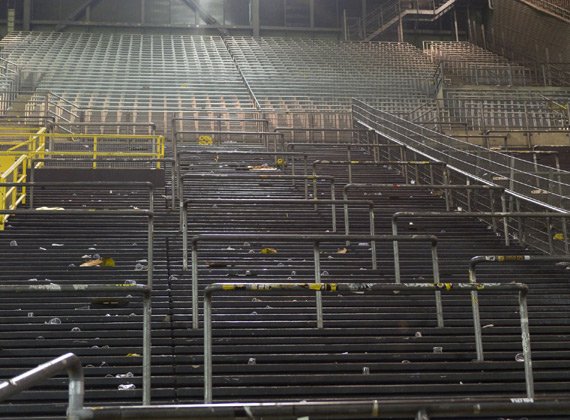 (Courtesy: @BVB)
Dortmund reiterated that it has apologised to Leipzig officials for the conduct of its fans, but did suggest that the "Yellow Wall" closure was excessive. It has pledged to reimburse those with tickets who weren't involved in the Leipzig violence, as the North Rhine-Westphalia outfit continues to prepare measures and sanctions against the perpetrators.
"It must be possible to go to a stadium with children and family, especially at Dortmund," said manager Thomas Tuchel three days after the disappointing scenes at the Westfalenstadion.
"I have not perceived it as a wall of hate, I perceived it as very emotional, very supportive," he added on a stand that has been cited as a model for "safe standing" practices elsewhere in Europe. "I saw the banners, just the sheer number of them. But I did not read them. And there is a major difference between displaying banners and what happened outside the stadium.
"It hurts the soul, and it hurts the fairness, but I did not see a wall of hate."
Der BVB, coming off the back of a listless performance in a 2-1 loss at bottom-placed SV Darmstadt 98, takes on Portuguese Primeira Liga leader Benfica in Tuesday's Champions League Round of 16 tilts.
It will then host 14th-placed Wolfsburg in an uncharacteristically cavernous Westfalenstadion next weekend.