Defying the critics: Why Ronaldo isn't having that bad of a season
Reports of Cristiano Ronaldo's demise have been greatly exaggerated.
Despite overwhelming criticism, the 33-year-old Real Madrid talisman continued to show on Saturday he's still a force to be reckoned with. His two-goal performance against Alaves put him on 28 goals for the season. That briefly put him level with Lionel Messi before he bagged a brace of his own later in the day.
These aren't the kind of numbers that suggest a crisis.
Ronaldo even demonstrated some generosity, deferring penalty-taking duties and a chance at a 50th career hat-trick so that Karim Benzema could gain confidence. Benzema – who's endured whistles from the Santiago Bernabeu faithful all season – buried from 12 yards to secure a 4-0 win.
What's most important is that Ronaldo is back to scoring. The complaint against him earlier in the campaign was that he was missing a lot of chances, but the reality is that Ronaldo has never really played all that poorly. The only difference between then and now – albeit a pivotal one – is that he and his teammates are converting effort into goals.
Many blamed Madrid's early-season struggles on Ronaldo's own inefficiencies in front of goal, but it was an unfair burden. The famous "BBC" triumvirate had barely played together, Isco's influence had waned, and supplementary scoring wasn't there. Two figures who would have relieved Madrid up top – Alvaro Morata and James Rodriguez – were dispatched in the previous summer.
So a greater share of the responsibility has fallen on Ronaldo, and every misstep has meant that much more. Zidane's lack of a Plan B, coupled with increasing talk of Ronaldo's transformation into a veritable No. 9, amplified the focus on the superstar's scoring output.
He has made things difficult for himself, missing several clear-cut opportunities in the first half of the season. Taking into account matches up to Feb. 16, Stratabet shows the Portuguese has been inadequate in this department. His goals per 90 minutes is fairly low for the number of shots he takes.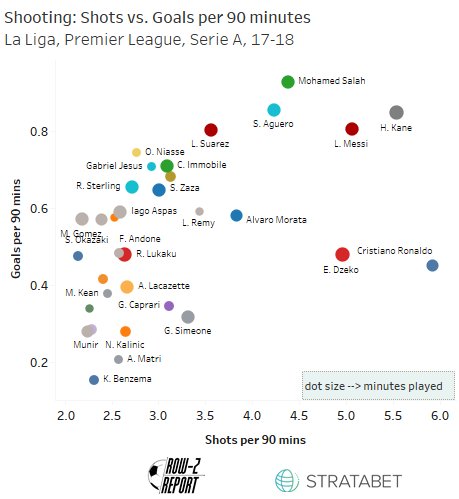 (Courtesy: @RowzReport)
He's also been terribly unlucky. Only Messi has struck the woodwork more times than Ronaldo across the top five European leagues, and only Harry Kane has had more shots blocked. Not to mention that some of the goalkeepers he's faced have produced truly fantastic saves.
He's tried to make things happen in midfield as well. Ronaldo could only watch in agony as Gareth Bale wasted an inch-perfect through ball in the 5-3 victory over Real Betis. The score was 2-2 at the time, and Ronaldo tracked back from a fairly high position in search of an opening. Betis 'keeper Antonio Adan made an excellent stop on Bale, but if nothing else, it showed Ronaldo has tried to affect games outside the box.
And a closer look at Ronaldo's stats reveals that his struggles are essentially confined to La Liga. Outside of the Spanish top flight, he's done what everyone expects him to do. He set a Champions League record with a goal in every match of the group stage, and scored in the Spanish Super Cup and the final of FIFA Club World Cup. He isn't exactly shrinking on the big stage.
With a few months of the season left to go, Ronaldo isn't quite finished yet.