Looking back at Arsenal's worst losses in European competition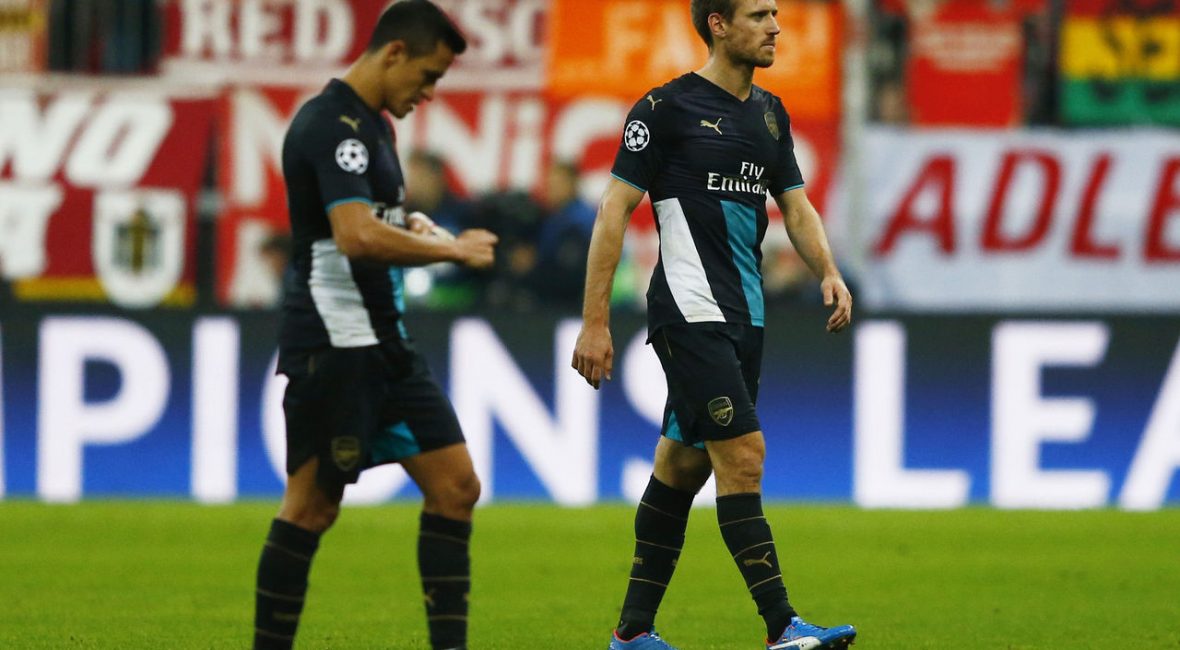 It was a gutless display, but nobody was surprised.
On Wednesday, Arsenal was thrashed 5-1 at the Allianz Arena for the second time in two visits, putting the Gunners on the verge of exiting the Champions League in the Round of 16 for the seventh year running. Arsene Wenger's side was torn apart by Bayern Munich in the second half, conceding three goals in a 10-minute assault and exhibiting its lack of heart and spine.
Seasoned supporters of Arsenal were injected with a disheartening sense of deja vu, as the four-goal loss matched the Gunners' worst defeat in European competition and echoed their recent escapades in the Champions League.
Here are two of Arsenal's other vulnerable nights in European football:
Bayern Munich 5-1 Arsenal, November 2015
In a trip to the Allianz Arena that looked just like Wednesday's, Arsenal felt the full force of Bayern during the 2014-15 Champions League's group stage. The Gunners travelled with a harsh injury list, as Laurent Koscielny was unable to play due to a bothersome hip and Hector Bellerin had an ailment of his own. But the wounds were no excuse for such an emphatic deficit.
Bayern scored three times in the first half, playing irresistible football to make Petr Cech's night a living hell. Robert Lewandowski, Thomas Muller, and David Alaba all found the back of the net before the interval, and the drubbing only got worse from there.
Since Arsenal was taking on Bayern in the group stage, however, the beating didn't eliminate the Gunners or put them on the brink of elimination. Instead, it meant Wenger's side had to win its final two matches and hope Olympiacos lost its two games in order to progress. And that's exactly what happened.
AC Milan 4-0 Arsenal, February 2012
Prior to kick-off, Arsenal's supporters piled litter in front of the Duomo di Milano in Milan, Italy. The Gunners' players then piled garbage on the pitch at the San Siro.
In the 2011-12 Champions League's Round of 16, Arsenal was hammered 4-0 by AC Milan and lucky not to lose by six, seven, or more. The Rossoneri were excellent, but the Gunners' performance came under immense criticism. After Koscielny was lost in the 44th minute due to a knee injury, the back four of Bacary Sagna, Thomas Vermaelen, Johan Djourou, and Kieran Gibbs couldn't hold a line and gifted Massimiliano Allegri's side with acres of space.
By the final whistle, Kevin-Prince Boateng, Robinho, and Zlatan Ibrahimovic had put the tie out of reach. A 3-0 victory for Arsenal in the second leg just felt cruel.