Raiders reward Del Rio with new 4-year contract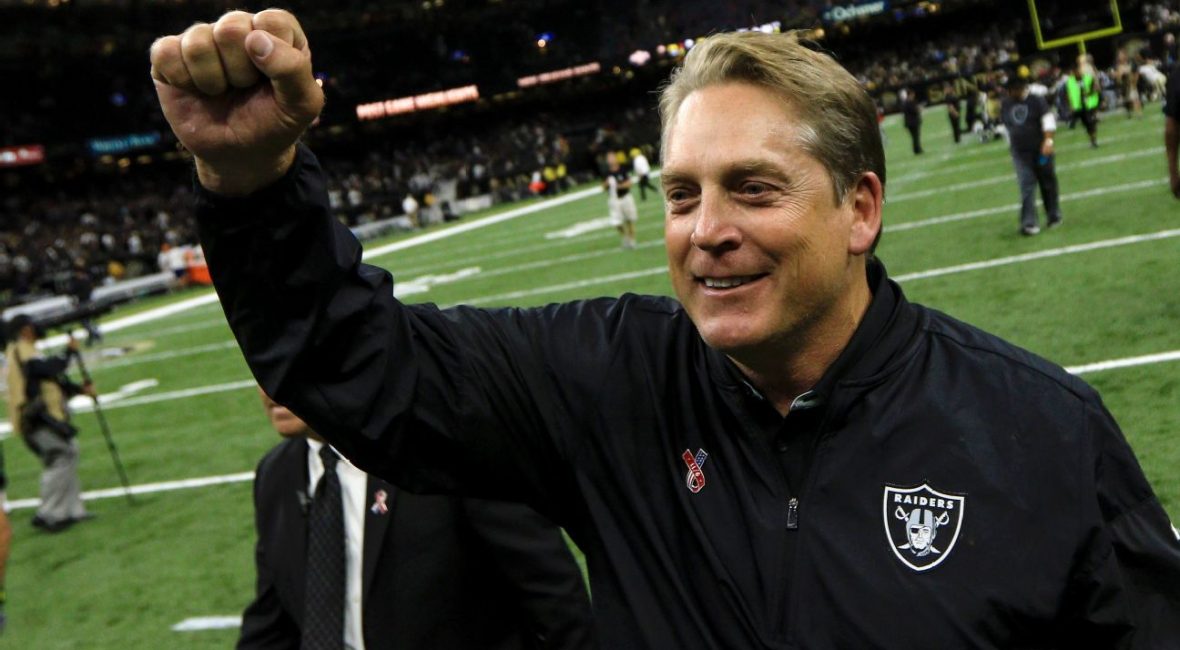 ALAMEDA, Calif. — Jack Del Rio, who was hired by the Oakland Raiders as the 15th head coach in franchise history on Jan. 15, 2015, was rewarded with a new four-year contract on Friday.
Contract details were not made available, though team owner Mark Davis said in a release the Raiders had "torn up" Del Rio's initial four-year deal.
"We are excited to continue building on the strong foundation that has been established," Davis said in the release, "and this is a significant step in achieving that goal."
Indeed, the season before Del Rio arrived, Oakland was 3-13 under Dennis Allen, who was fired after starting 0-4, and interim coach Tony Sparano. The Raiders improved to 7-9 in Del Rio's first season and then broke through with a 12-4 regular-season record and the team's first playoff appearance since 2002.
The Raiders were paced by NFL Defensive Player of the Year Khalil Mack and quarterback Derek Carr, who finished tied for third in NFL MVP voting even though he missed the regular-season finale — a loss at the Denver Broncos that cost Oakland the AFC West title — and the postseason defeat at the Houston Texans.
Del Rio, who grew up a Raiders fan in the shadow of the Oakland Coliseum in nearby Hayward, finished fourth in NFL Coach of the Year voting behind the Dallas Cowboys' Jason Garrett, the New England Patriots' Bill Belichick and the Miami Dolphins' Adam Gase.
But with general manager Reggie McKenzie, Del Rio has hastened a culture change as he preached teaching the Raiders how to compete in 2015, and how to win in 2016.
After bringing back his entire staff in 2015, Del Rio allowed offensive coordinator Bill Musgrave to leave (he signed on with the Broncos to be their quarterbacks coach) in January and promoted Todd Downing from quarterbacks coach to offensive coordinator.
Defensive backs coach Marcus Robertson also was not retained (he went to Denver, too), and the Raiders hired former San Diego Chargers defensive coordinator John Pagano as assistant head coach/defense last month.
Twice Del Rio took the Jacksonville Jaguars to the playoffs, most recently in 2007, and they have not been back since, winning no more than five games in any season since he was fired in 2011.
As the Broncos' defensive coordinator, he helped set the stage for their Super Bowl run in 2015. But it is in Oakland, where he has pictures of the Raiders' two Super Bowl-winning coaches in John Madden and Tom Flores hanging in his office for inspiration, where Del Rio has made an indelible mark.
The do-or-die two-point conversion attempt that proved successful in this past season opener at the New Orleans Saints set the stage for the Raiders, who had not experienced a winning season since 2002.
"Well, I agree with them," Del Rio said with a laugh in November when asked about the perception he had changed the culture in Oakland. "That's one of the things that we did. But it's not me alone — it's us, it's what we have done. It's what all the people in this building, everybody plays a part, you know? That's what I believe in. It's an inclusive kind of deal.
"I provided a vision, I provided that. But beyond that … we're all in it. And I mean that sincerely. We're all in it. We're all in it and we all play a small part of it and together, collectively, we can do special things."
Del Rio is seen as a player's coach, having spent 11 seasons in the NFL as a linebacker with a Pro Bowl appearance on his resume.
"You could tell he was a heck of a ballplayer," Mack said late in the season. "He played at a very high level, so he knows what it takes and he knows the attitude and he can see and feel the different things from his players. He just has a total awareness."
Madden told the San Jose Mercury-News in November "the team just needed a man; they needed an adult running them.
"They [tried] the young guys, the new guys, the inexperienced guys, and that didn't work. When Jack Del Rio walks into a room, a man just walked in the room."
Carr said he and Mack, who were both drafted a year before Del Rio arrived in Oakland, instantly connected with the coach.
"When he showed up, it was like, 'Man, this is awesome, because this is exactly the things we've been talking about,'" Carr said at the time of the pledge he and Mack made as rookies.
"Our whole class, we just wanted to go out and show people how to work and how to compete. We didn't care how old we were … we didn't care about any of that. We cared about winning and one day winning here.
"That was really important to us, and when coach Del Rio showed up, man, that spark kind of lit the fire."
One the Raiders hope burns bright for at least the next four years.