Colin Kaepernick's numbers shouldn't add up for Cleveland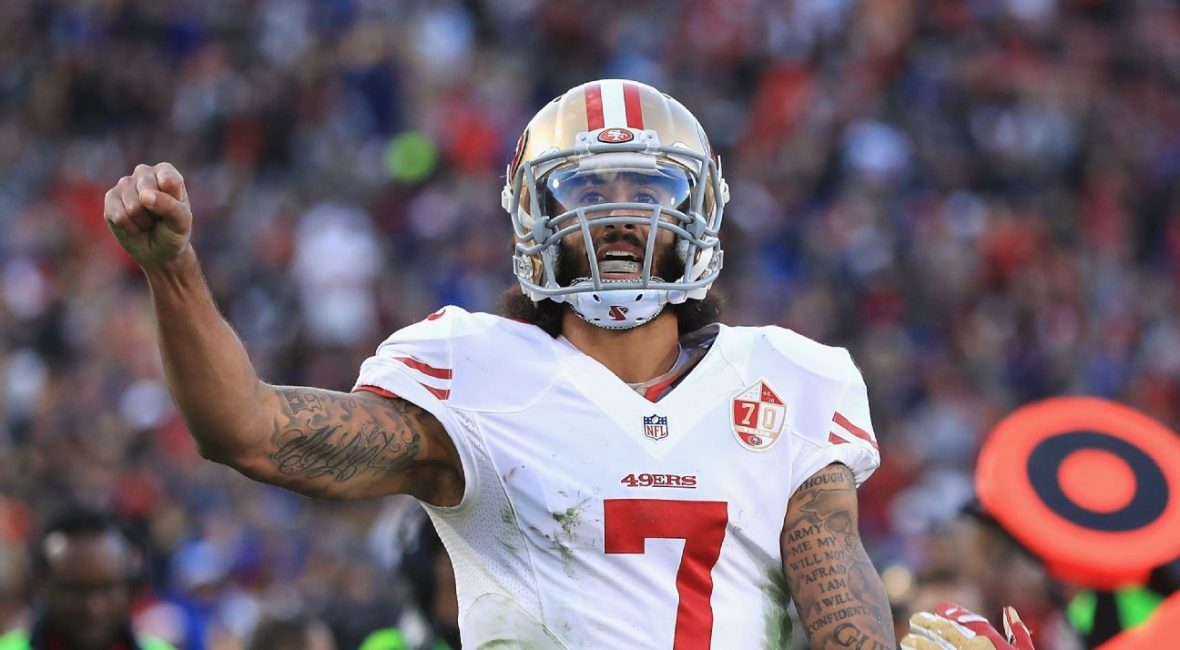 Colin Kaepernick will enter the quarterback free-agent waters today when he officially opts out of his contract in San Francisco.
That makes him an option for a Cleveland Browns team that needs to consider all options.
Kaepernick is 29, a former second-round pick out of Nevada. His career passer rating is 88.9 and Total QBR is 64.9.
His overall statistics put him in the middle of the pack among NFL quarterbacks in his career. His accuracy is not great, and he's been sacked way too often — 171 times, which ranks 14th-highest during his NFL years.
Kaepernick made news by not standing for the national anthem in 2016. He was making a statement — one that many understandably did not like. Judge him by his numbers, though, and those add up to a player who is similar to current Browns QB Robert Griffin III.
Start with this: Since Kaepernick joined the NFL, his passer rating ranks one spot ahead of Griffin. Kaepernick is a better pocket passer. The concern is that he's been sacked so many times, he might be become more skittish.
Here's a breakdown of some of his numbers:
Kaepernick's completion percentage is 59.2, which isn't good enough and ranks 28th overall since 2011. The average in that time is 63.6 percent.

He hasn't been the same since he guided the 49ers to the Super Bowl in 2012 and the NFC Championship Game in 2013. He was sacked 52 times in 2014, the fourth-highest single-season total in his years in the league. He is one of only five quarterbacks to be sacked more than 50 times in a season since 2010, and he's been sacked 116 times in 35 starts the last three seasons. How much of that should be attributed to the offensive line and how much to the quarterback is up for debate, but those numbers point to everyone being somewhat responsible. In a December game in Chicago, Kaepernick completed 1 of 5 passes for four yards and was sacked five times. He eventually was benched for Blaine Gabbert — and the 49ers had a net passing yard total of minus-21 yards at that point.

Kaepernick's career passer rating of 88.9 ranks 17th (Griffin is just behind him at 88.4), and Kaepernick's Total QBR ranks 13th.

He does not turn the ball over. Last season he had 16 touchdowns and four interceptions, and in his career he has 2.4 touchdowns for every interception — ninth-best in his time. His 1.77-percent interception rate is the 45th lowest in the league, and he's never had a season when he's thrown more interceptions than touchdowns.

His career yards per attempt is 7.25, 20th overall.

He is mobile, but he's also a pocket passer. In his career he's completed 62 percent from the pocket. His passer rating from the pocket is 90.3, and he has 51 touchdowns and 22 interceptions. His numbers from the pocket are actually better than they are out of the pocket, where he's completed 50.2 percent with a rating of 83.0 (all according to ESPN Stats & Information).

ESPN Stats & Information reports that he had the best completion percentage in the league in the first half last season (73 percent), but the worst in the second half and overtime (48 percent). His total QBR in 2015 and '16 was 52.0, fifth-worst in the league.
Kaepernick owned the 49ers job after the 2013 season. He had guided San Francisco to the playoffs and was 17-6 as a starter. He never seized the job in the three seasons since then. In his last three seasons, he has gone 11-24 as starter and was sacked 116 times. Kaepernick opted out of his deal, but the 49ers were ready to move on as well.
The Browns owe it to themselves to consider Kaepernick, but in his case the on-field numbers say enough.
They just don't add up.